Welcome from our Pastor
Dear friends,
Thank you for considering Saint Hilary School. Here we focus on educating the whole child which includes a focus on real character in addition to providing an excellent academic foundation. When you entrust your child to the teachers and staff members of Saint Hilary School, you make a commitment to give your son or daughter a chance to learn about virtue, to embrace decency, and to experience what it means to be compassionate, honest and caring. Academics are of critical importance to us, but a full education includes other facets of life here at our school: learning about faith, community, discussing what it means to be a moral person, putting into action those spiritual values that inspire many people, Catholic or not, to choose a Catholic school for their beloved children.
Ours is a very special community. Our students are a happy group and a very generous group – from the youngest in Kindergarten to the Eighth Graders who serve as role models for the little ones, we have a lovely spirit of caring that reaches out beyond our own little peninsula to many people in need, both here and abroad. Each time I learn of a new adventure our children have embraced, I come away inspired by their joy in being together, in being creative, and in using the blessings God has given them to help others: the elderly who come for our monthly senior luncheon; the little kids whom our students tutor in the Canal District of San Rafael; schools in Africa that benefit from the initiative our boys and girls take in raising money, collecting needed supplies, and sending signs of their love and care.
All this is not unique to Saint Hilary School, but it is very much alive and well here. It all began in 1963 when the Sisters of the Holy Faith came from Ireland to found our school, on the same principles that were established 150 years ago, making sure that orphaned children would receive a home, love, food, and a good Catholic education. The foundress of the Holy Faith Sisters, Margaret Aylward, was impelled by the deep conviction that her work for children, the provision of education, and her support of family life was also building up the fabric of society itself. Thanks be to God, her vision and legacy live on today at Saint Hilary School, which we celebrated in 2013 at our Golden Jubilee, embracing these very same values. Now, our modern school is staffed by men and women, married and single, young and old, who all strive to make sure the children who come to us will leave Saint Hilary School with insights and principles that will serve them well for many years to come. Speaking with graduates of our school is a great blessing, and a proof, to me, that this vision is indeed being lived out!
If this is the vision of what you wish for your child, we look forward to meeting you when you visit our school.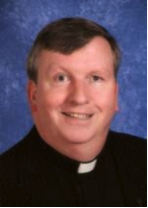 Fr. William Brown
Pastor, Saint Hilary Parish
Interested in making a contribution to St. Hilary parish? Click Here.